Baroque baroque
Suzie Mackenzie
The Guardian, Saturday 19 August 2006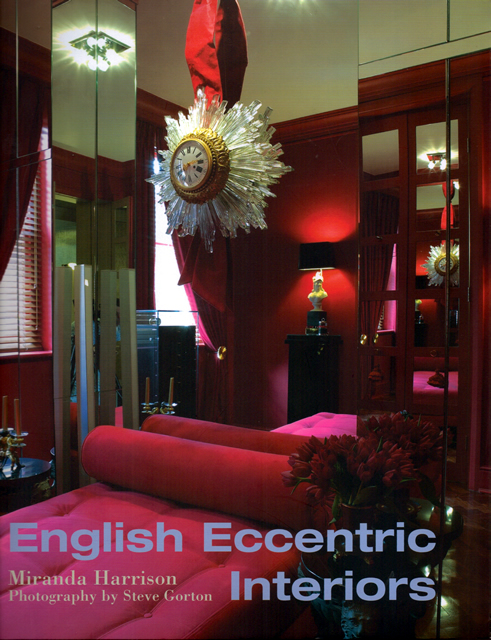 He hung out with Truman Capote and fell out with Salvador Dalí. Suzie Mackenzie talks to interior designer Richard Adams - the last true maximalist
True audacity, as Jean Cocteau once said, is the trick of knowing how far you can go in going too far. It is flamboyant, ostentatious but always - if it is going to work - underpinned by self-discipline. Its close cousin is vulgarity and it is an audacious designer who sets as his style the fine line between these two.
Richard Adams, an American interior designer based in London, is known for his love of textures, of vivid colours, his insistent use of gold leaf - often on ceilings; for his mirrored doors and walls; for a sensibility that many describe as "baroque-baroque". And for what he calls "the room as advertisement". When you hire him, he says, you quite reasonably expect two things. Comfort: Adams is entirely resistant to modernism's stern aesthetic. "I'm no good at it, so why try?" And luxury: "I have yet to meet a client who wants you to walk into a room that looks poor." He understands utilitarian things have their place, "but not in the drawing room". The whole point of design is "to display". Which is not the same thing as to reveal. "There are some things you design to hide, or camouflage." A room is there to reflect the taste of its owner. "And I am there to help them avoid mistakes. To create spaces that are right for their lifestyle."
Adams was born in Virginia, into an upper-middle-class family. As a child he used to drag the family furniture upstairs to his room, lock himself in and design playhouses. But when he began working it was as an illustrator - his first passion, but doomed because photography had just become fashionable. His first "proper" job was as the creative director of a shop on Fifth Avenue called Splendiferous; he went on to become a make-up artist on magazines such as Vogue and Harper's Bazaar, working with the monk-like Irving Penn who used to chastise him for smoking. He knew Audrey Hepburn; was much liked by Salvador Dalí, who wanted to paint him "as a Nazi, I think. He thought I had a Germanic look". On his mother's advice, Adams turned down Dalí and the artist never spoke to him again. It is a decision, he says, "I regret to this day". He was never close to Truman Capote but Adams was often the person who'd help him home,"when he couldn't make it alone".
His own apartment, a cocoon-like space, 520 square feet in London's Chelsea, is a model of his aesthetic ideal. It is big enough for him since he lives alone. "I have never wanted, nor am I able, to live with anyone else. I am too obsessive. I like that when I put something down it is in the same place when I go back." And it is filled with objects from the repertoire of European styles and eras. When he thinks about himself he says, "it is as a European".
The main space - half bedroom, half sitting room - is divided by mirrored doors that open to create a coherent whole when he entertains, but also works as separate rooms. This makes them sound conventional, which they are not. The bedroom side is covered in blood-red satin, with a mirrored wall, on which hangs a sun-burst clock above a red divan. "A lot of people are frightened of red, especially in a bedroom. But I find it exciting. I designed this to be seen at night. At night it sparkles and startles." His sitting room is "a sort of slub-green, an uncommon colour. It reminds me a bit of the 60s, when I was young. It also has a quality of bark, a texture that I like."
The green is offset by the dramatic ornamentation of the furniture, drawn, apparently haphazardly, from different periods: an 18th-century French lacquered Ormolu desk; a wall stand that looks like a convergence of two Gaudí tendrils; a 60s glass chandelier; a replica of aesthetic realist Gerrit Thomas Rietveld's zigzag chair and a pair of s-shaped constructivist tables by Terence Conran. Above the fireplace hangs a triptych of New York in ink silk-screened on to Perspex. Outside in the hallway the walls are lined with distressed aluminium. Each piece, taken individually, could seem kitsch. Together they add up to a kind of crazy narrative of taste.
Adams is a great storyteller and his stories share the improbability of the curious rooms he creates. They are dotted with unlikely and startling sentences, like the knick-knacks he distributes around his flat. He begins one: "When I was held hostage by a group of Chechen rebels in a hotel bar in Istanbul ..." And there it is, all true, as reported in the New York Times, on April 24, 2001.
"All of life is a risk," he says. "I've learned that you have to protect yourself. Even in this business, there are dangers." Almost 20 years ago he met a man, Michel - cool, cultivated, Swiss - in a Manhattan cocktail bar. Soon they were inseparable. Adams was in his 30s, living in Manhattan, busy enjoying the privileged access to the wealthy. People trusted him and he, in turn, trusted them. It was natural that when some wealthy friends invited Adams to their mansion in Connecticut for the weekend, Michel would go, too. He didn't think it odd when Michel refused their offer of a car to pick them up. "He said we'd hire our own car, that way we could take them out to dinner." The Friday they were due to go was stormy and the weekend was cancelled. Michel was particularly upset. Before they set off from Adams' apartment for dinner, Michel offered him the dregs of a Cognac. "The room started to liquefy - and then it was the following day, my flat had been stripped and Michel had vanished." The police later told him he had not been the object of the sting. "It was my friends he was after - but everything had been organised for that weekend, so when they cancelled, he took what he could from me. Everything of value, financial and sentimental, went with him."
Adams describes it as the worst thing that ever happened to him. "Because I thought he was a friend. That's what brought me to London. The desire for a fresh beginning."
The experience cured him of attachment to material things. "And that is a part of what makes me a good interior decorator. I love beautiful things but there isn't a thing in this flat that I couldn't part with. And there isn't a material thing anybody has that I could envy. Which makes it much easier to do my job."
But he does hang on to the odd object. He's had the chandelier in his kitchen/office for 40 years. "I take it with me, make it larger or smaller as a room demands." He keeps photographs, notes from friends, invitations. And he collects anecdotes. Sometimes, as is his style, he combines these in variations. Prominently displayed in his flat is an invitation from Prince Charles to a dinner at Windsor Castle. "At the dinner, Prince Charles came up to me and said, 'We met three years ago.' I said to him, 'You've an amazing memory. What's your name?'"